Accessories
Bottom Mounting Plate (BMP–x)
BMPs are made of 0.090″–thick, 5052–H32 aluminum, textured and clear iridited. Screws, lock washers, and captive nuts are provided for secure attachment to the chassis.
The Bottom Mounting Plate acts as a structural inner floor, supporting extremely heavy subassemblies within the chassis. Depending upon the area of supporting surface required, any BMP of a length equal to or less than chassis depth may be installed in a chassis. A BMP–12 can be very useful in a 19″–deep chassis, for example. All BMPs may be mounted in any one of six possible mounting positions and configurations, using provided rows of Side Panel holes.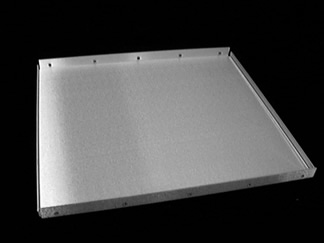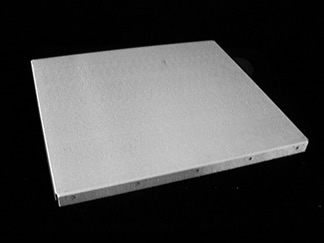 STRONGBOX® does not offer a BMP to fit the SB9–x (9 1/2″ deep) Series of chassis kits. An IMP–8 (see Interior Mounting Panel description) may be mounted horizontally in any SB9–X chassis to accomplish this purpose. It will
provide all the strength and rigidity such an application requires.
Heavy Cover Plate (HCP–X)
The Heavy Cover Plate is made of textured and clear iridited, 0.090″–thick, 5052–H32 aluminum is attached to the chassis, using four 6–32 machine screws.
Use Heavy Cover Plates to replace one or more covers of a chassis when both the structural support of light to moderate loads and full chassis height are required.
Mounting Angle
MA–1.5 Mounting Angle, for use with the entire line of Heavy–Duty Rack–Mount Chassis:
The faces (sides) of the MA–1.5 Mounting Angle may be drilled, notched, or otherwise modified by the user to attach and support card guides, back planes, circuit boards, and other electronic components within a chassis. They attach to pre–drilled chassis holes in any of four orientations, and may be placed anywhere else in a chassis subject to user modification.
MA–1.5 Mounting Angles are cross–chassis bars, not sub–floors or panels, so the flow of cooling air is not impeded. They also increase the torsional stiffness of chassis destined for extremely demanding environments.
Each Mounting Angle is made of 0.090″–thick, clear–iridited aluminum. The MA–1.5 cross–section in an "L", 0.75″ by 1.50″. It extends across the full width of the chassis, wall to wall, and attaches with captive stainless–steel hardware.