1u (1 3/4") Heavy–Duty Rack–Mount Chassis
Introducing the STRONGBOX® 1 3/4″ high (1 rack unit) by 19″ wide, heavy-duty rack–mount chassis.
SBx–1 chassis are available in depths of 9 1/2″, 12″, 15″, 19″, 24″.
The Front Panel is notched to EIA specifications for mounting in your industry–standard 19″ rack. It is secured by countersunk screws accessible from the front.
The top Cover may be ordered perforated or solid. The unitized (chassis) bottom is solid.
A rigid Interior Mounting Panel is supplied for use as the chassis rear panel. It may be used,
horizontally or vertically oriented, in any one of many pre-drilled positions.
Other accessory –  Interior Mounting Panels are available in several useful sizes.
Order complete kits or individual parts. Each complete kit contains 1 Front Panel, 1 unitized
Chassis (sides and bottom), 1 Cover (see Cover Options note, below), and 1 Interior Mounting
Panel. All parts assemble with provided captive, stainless–steel hardware.
Basic dimensional information is given in the table below. Detailed drawings are available on request.

Cover Options
Kits come with a solid–bottom unitized chassis. To get a Perforated (top) cover add "–PAC" to the kit number. To get a Solid (top) cover, add "–SAC" to the kit number.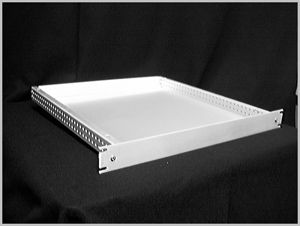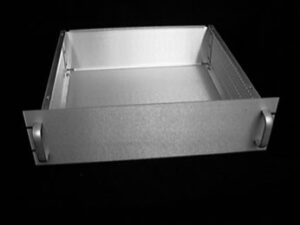 Our "1U" chassis is available in depths of  9.5″, 12″, 15″, 24″ and 26″.
Chassis are available with a perforated  top, a solid top, or a heavy  cover.
Each 1U Contains:
1 CHAx-1 (sides and bottom), 1 Front Panel,  1 Rear Panel, and 1 Cover.