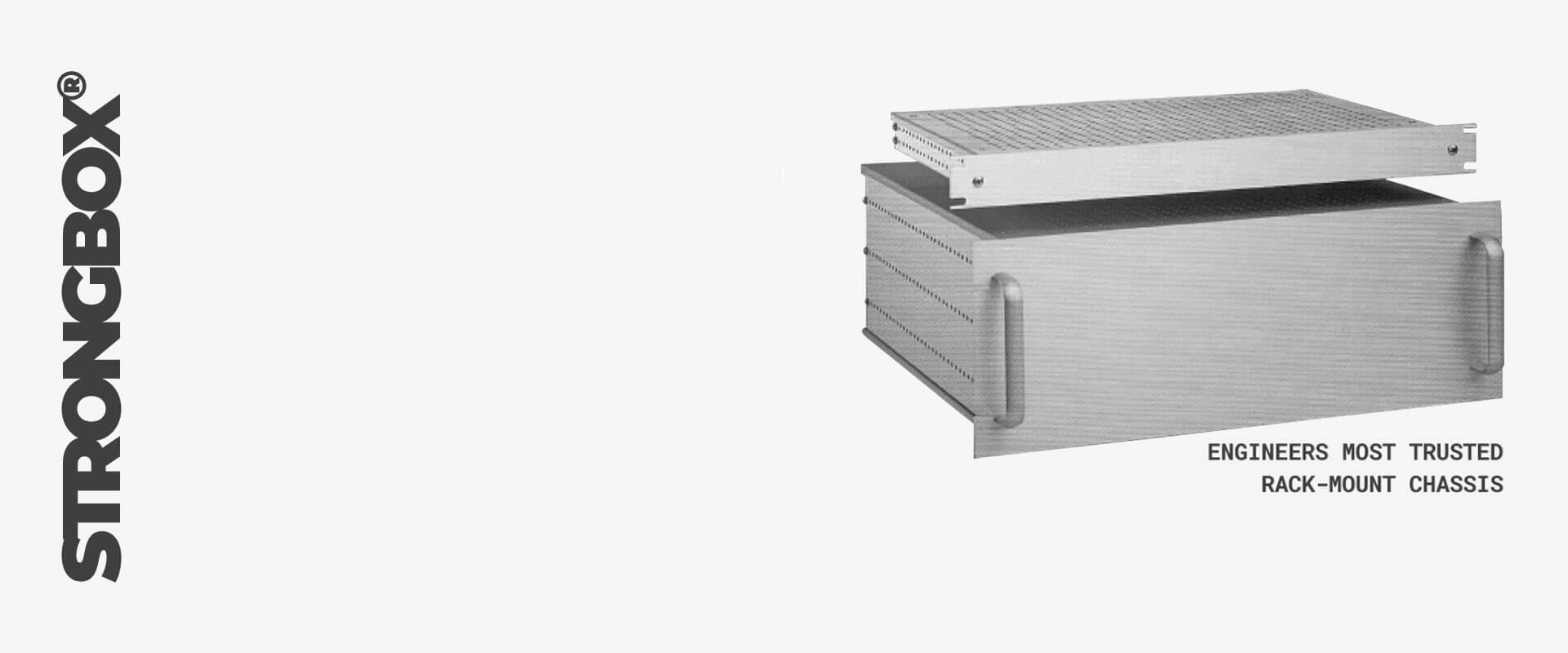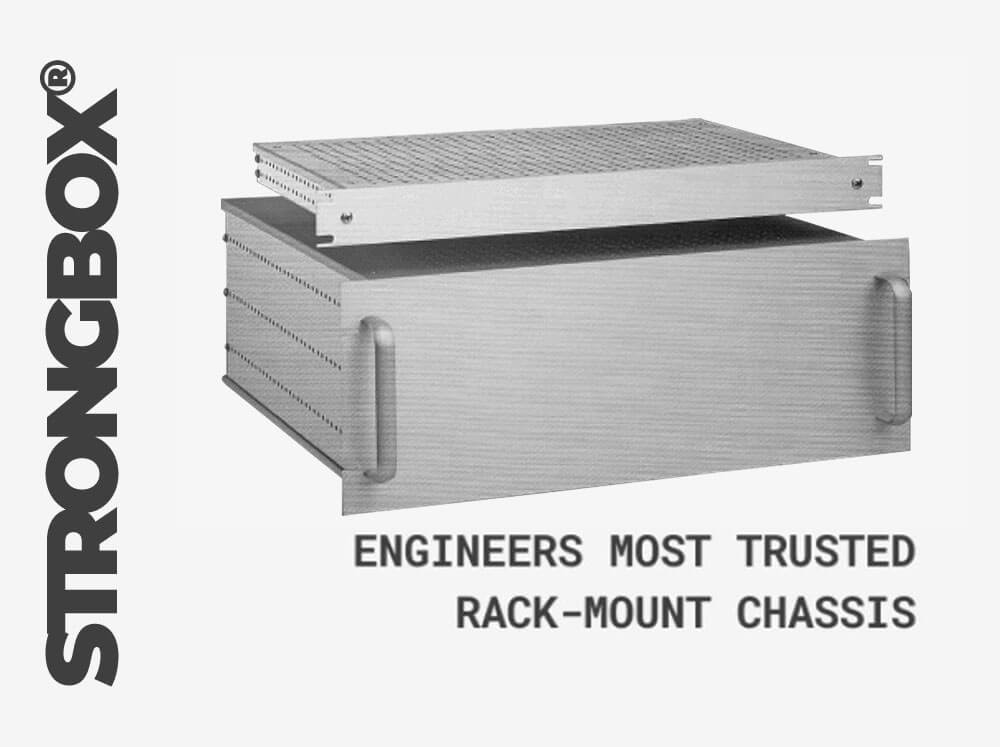 Welcome to RackMountChassis.com
Home of the STRONGBOX®
The go to place for Heavy-Duty
Rack-Mount Chassis
At STRONGBOX, we connect and protect sensitive electronics in demanding applications.
STRONGBOX offers the ability to create electronic infrastructure meant to service a wide range of applications.
STRONGBOX [www.rackmountchassis.com] meets national and international standards for manufacturing and packaging.  Our standards-based solutions, modified or customized to meet the needs of your specific application, can save you time and money.  This means you don't have to spend time and money on creating a proprietary solution from scratch.
Be Our Next Satisfied Customer
Our Customer List Includes the Following:
| AT & T | Ford Motor Company | Los Alamos National Labs | Rockwell |
| --- | --- | --- | --- |
| Argonne National Labs | GTE | MIT | Union Carbide |
| Bethlehem Steel | General Electric | Motorola | U.S. Air Force |
| Boeing | General Dynamics | Northrop | U.S. Navy |
| AT & T | Ford Motor Company | Los Alamos National Labs | Rockwell |
| Brookhaven National Labs | Hughes | Northstar | Unisys |
| CBS Technology Center | IBM | Raytheon | Westinghouse |
| FAA Technical Center | Lockheed | Reynolds Metals Co. | Xerox |
StrongBox® Offers Top Quality Products
Since 1980 StrongBox® is the Heavy-Duty Rack-Mount Chassis Most Trusted by Engineers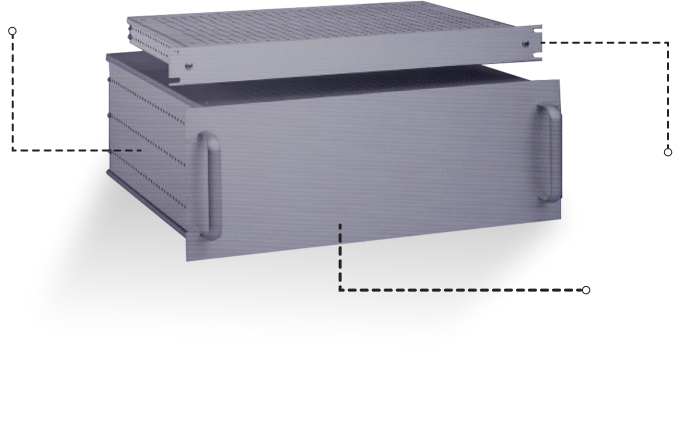 The most obvious difference between STRONGBOX® Heavy–Duty Rack–Mount Chassis and "regular–duty" versions offered by other manufacturers is the thickness of the aluminum from which they are made. The main structural members of our chassis are 0.090″–thick. Similar parts of other units are only 0.040″ to 0.063″. Our heavy–duty chassis provide more than twice the intrinsic strength without using hard–to–machine steel or added internal framework sub–assemblies. Specify STRONGBOX® to keep your project hassle–free.
Heavy-Duty Rack-Mount Chassis
Our Heavy–Duty Rack–Mount Chassis assemble with stainless steel machine screws, lock washers, and captive PEM nuts which do not react galvan ically with aluminum.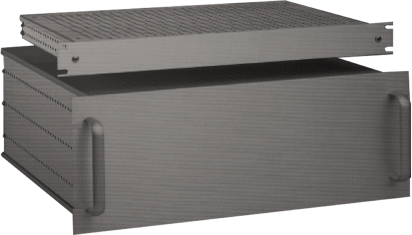 Custom Sizes
SB9–, SB12–, SB15–, SB19– and SB24–Series Heavy–Duty Rack–Mount Chassis are available in six EIA Front Panel Heights: 3 1/2″, 5 1/4″, 7″, 8 3/4″, 10 1/4″, 12 1/2″ (3, 5, 7, 8, 10, and 12, nominal)
Components
Components can be ordered as complete kits or as individual parts. Kits and parts come with
all required captive machine hardware.
Cover Options
Kits ordered without a Cover Option "dash–number" come with two Perforated Covers. Use the
following table to specify other Cover Options.
To Kit Number, Add: To Get:
–PAC two perforated covers
–SAC1 one, each, Solid and Perforated Cover
–HCP/PAC one, each, Heavy Cover Plate and Perforated Cover
–HCP/SAC one, each Heavy Cover Plate and Solid Cover
Covers are interchangeable: use on top or bottom.
Terms
F.O.B. Point
All Shipments are F.O.B. . Carrier will be of seller's choice unless otherwise specified.
Hours
Our Sales Office is open from 7:00 am to 4:00 pm (Pacific Standard time) Monday through Friday. Messages may be left anytime on our telephone answering machine or on our website at "www.STRONGBOXmarketing.com." Our email address is "[email protected]."